Jumpers, Jump Houses, Bounce Houses!
Bounce, hop and play safely with our inflatable jumpers! Our huge selection guarantees that we have something just for you. Trained staff is available to guide you through the ordering process if you need help. Click on the chat button on the bottom right hand corner or call us at 650-630-5867 Mon-Fri 9am-7pm.

Did you know that across the country they are called many different names? Some folks call them jumpers, jump houses, bounce houses, moonwalks, astro jumps, air bouncers, balloons(yes, really!), bouncy castles and sometimes spelled bouncey castles! Call them what ever you want because at the end they are all fun!
Jumpers With Slides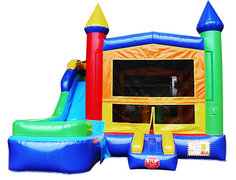 Standard Jumpers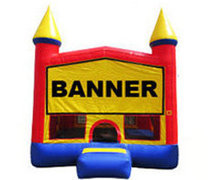 You will need one 15 AMP dedicated circuit for every blower within 50 feet. If you are at home most of the time this isn't a problem. If you have a huge home and no where near an outlet than you will need a generator.

At parks 95% of the time you WILL need a generator. Some parks have outlets but the majority do not. Generators are $80 and provide gas for 5-6 hours for one blower. If your jumper needs two blowers than you will need two generators.

If you have smaller games we can actually put 2 blowers on a generator but if it takes one 1 horsepower blower than it's 1 blower per generator. If you plan to be there than longer than 5-6 hours just ask for more gas and we will bring more at no extra charge. We will show you how to refill.

Do you know what city's love the jumper rentals and bounce house rentals the most ? They do : Redwood City
San Mateo CA,Menlo Park CA,Palo Alto CA, Los Altos ,Pacifica CA ,Atherton CA and many more

If you are wondering if you can call last minute, go for it. The team and I, George always have jumpers near me. We actually always throw an extra one in the trucks if we can fit it.