119 - 13x13 LegoJump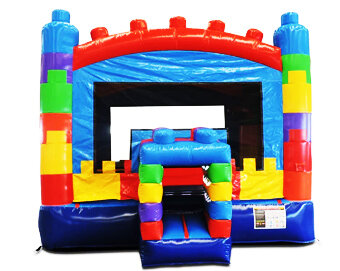 Short Weekend Rental
Fri 3pm to Sun 3pm

$390.00

Long Weekend Rental
Fri 3pm to Mon 10am

$494.00

Sunday Funday Special
COUPON CODE: FUNDAY

Save $15.00
On items over $260

About
The 13x13 Lego Bounce House with Basketball Hoop is the perfect addition to any birthday party or event. This inflatable bounce house is designed to provide hours of fun for kids of all ages. The bright and colorful Lego-themed design is sure to capture the attention of young party-goers, and the basketball hoop adds an extra element of excitement and competition. The bounce house is made from durable materials and is built to withstand the wear and tear of enthusiastic play.
The Lego Bounce House is not only fun, but it also promotes physical activity and social interaction. Kids can jump and bounce to their heart's content, improving their coordination and balance while getting exercise. The basketball hoop adds an extra layer of fun and encourages friendly competition, helping kids develop teamwork and sportsmanship skills. Parents can relax and enjoy the party knowing that their kids are having a blast in a safe and supervised environment. With its exciting design and endless entertainment possibilities, the Lego Bounce House is sure to be a hit at any birthday party or event.
Great for parks that only allow a 15x15 bounce house, amazing jump house at parks and fits at any birthday party all year round. Looking for a Lego bounce house with slide? On the search bar just type Lego and they will appear!
Recently
Viewed