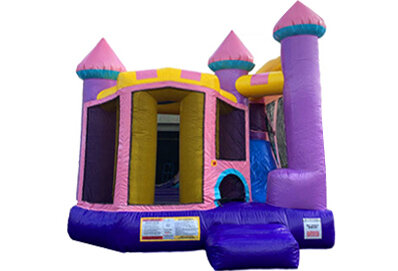 165 - 16x16 Glittery Jump and Midsize Slide
Setup Area: 18 Ft Left to Right x 20 Ft Front to Back x 14 Ft High
Dedicated Circuits: 1
How Many Kids: Up to 8.
Best Age Group: All ages.




Every Princess needs a Castle and What's better than one that Sparkles? This glistening pink and purple castle is sure to make you feel like royalty. With three tall towers it looks almost like a fairy tale. Once you climb inside you will find a large bouncing area (1) to gather your royal court. There is a basketball net inside (2) to keep the excitement going. For even more fun go up the climbing wall (3) and down the slide before making another royal entrance.