179 - 13x24 Lego Blocks Jump and Big Slide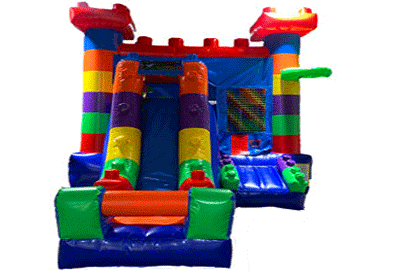 Short Weekend Rental
Fri 3pm to Sun 3pm

$547.50

Long Weekend Rental
Fri 3pm to Mon 10am

$693.50

Sunday Funday Special
COUPON CODE: FUNDAY

Save $15.00
On items over $260

About
The Lego Blocks Jump with Slide and Basketball Hoop is the perfect addition to any party or event. This inflatable bounce house is sure to provide hours of entertainment and fun for kids and adults alike. The bright and colorful design features Lego blocks, a slide, and a basketball hoop, making it a great choice for Lego-themed parties or events.
The bounce house is made of high-quality materials and is designed to be durable and long-lasting. The safety features include netting on all sides to keep children safe and secure while they play. The basketball hoop adds an extra element of fun and allows kids to practice their shooting skills while bouncing around.
With its fun design and exciting features, this bounce house is sure to be a hit with kids and adults alike for birthday parties, events at school and church functions!
Recently
Viewed