Jumpers With Slides are Even More Fun
Jump, bounce and slide on a jump house rental!
Want to see regular jumpers ? Click here or to see everything click here.
  Jumpers With Slides

Looking for a way to add some fun and excitement to your next party or event? Look no further than our Bounce House with Slides! These inflatables are perfect for kids and adults alike, providing hours of safe and enjoyable entertainment. Whether you're planning a birthday party, family reunion, or corporate event, our bounce houses with slides are sure to be a hit. With a variety of sizes and designs to choose from, you're sure to find the perfect one for your needs. So why wait? Browse our selection of bounce houses with slides today and start planning your next fun-filled event! And if you want to filter click here
190 - 13x31 Ice Cream Jump and Big Slide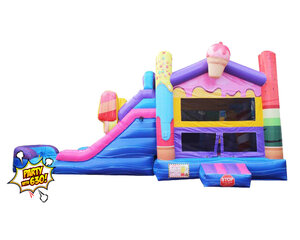 189 - 13x31 Candy Land Jump and Big Slide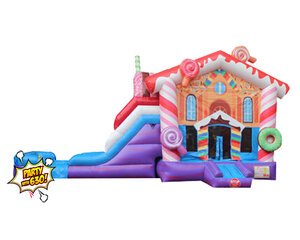 156 - 16x18 Mermaids Jump and Big Slide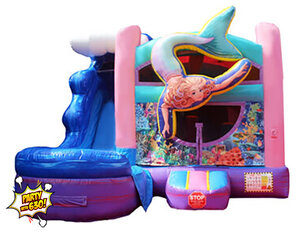 165 - 16x16 Glittery Jump and Midsize Slide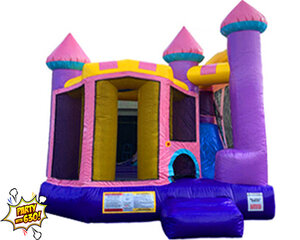 179 - 13x24 Lego Blocks Jump and Big Slide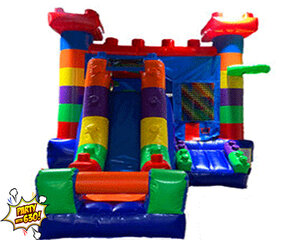 180 - 13x24 Toxic Jump and Big Slide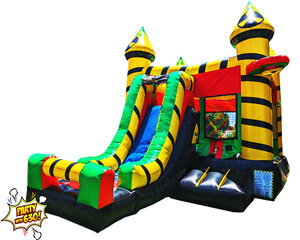 198 - 13x24 Jump and Steep Slide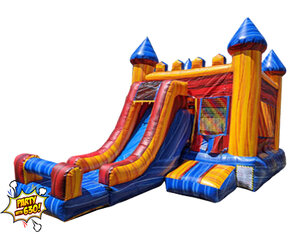 178 - 16x18 Lego Blocks Jump and Big Slide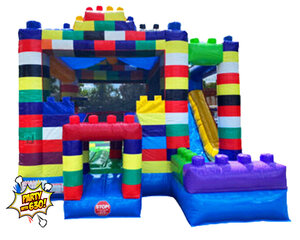 155 - 16x18 Crayons Jump and Big Slide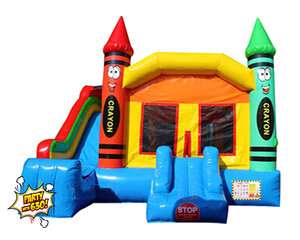 174 - 13x27 Frankenstein Jump and Big Slide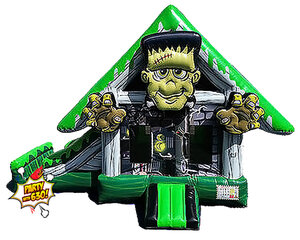 171 - 13x31 Zombie Jump and Big Slide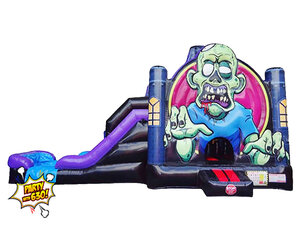 172 - 13x31 Dinosaur Jump and Big Slide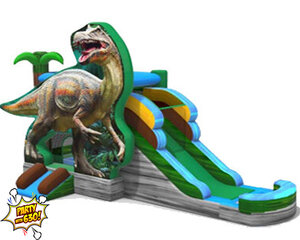 167 - 13x31 Shark Attack Jump and Big Slide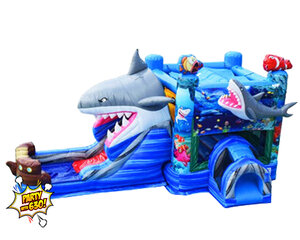 184 - 13x27 Pirate Ship Jump and Midsize Slide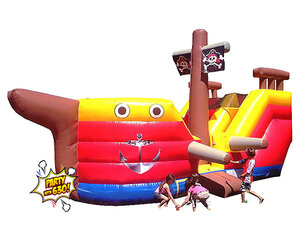 185 - 13x30 Rockin' Pirate Ship Double Slide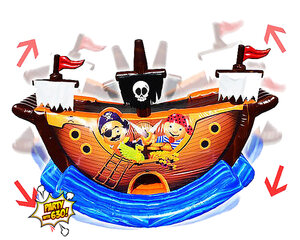 169 - 13x31 Jump and Dual Lane Midsize Slide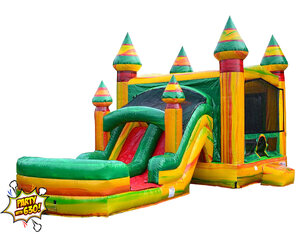 160 - 16x16 Theme-able Jump and Midsize Slide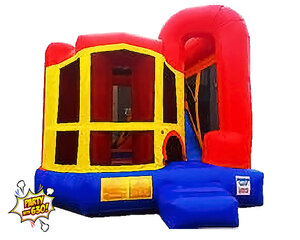 159 - 16x20 Jump and Big Slide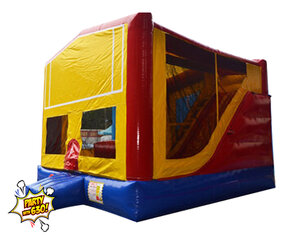 162 - 13x22 Jump and Dual Lane Small Slide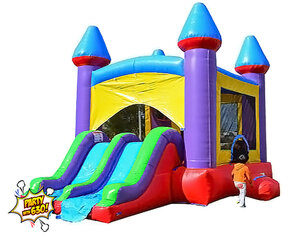 161 - 13x22 Tropical Purple Dual Lane Small Slide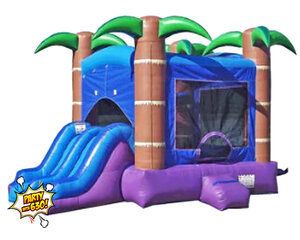 163 - 13x22 Tropical Jump and Dual Lane Small Slide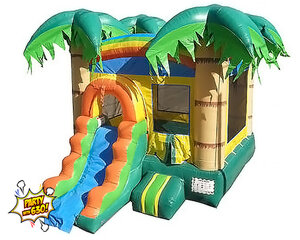 164 - 10x13 Toddlers Only Jump and Tiny Slide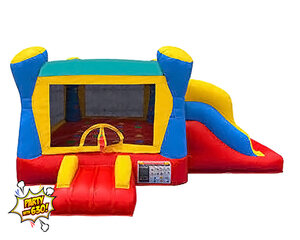 175 - 18x20 Halloween Jump and Big Slide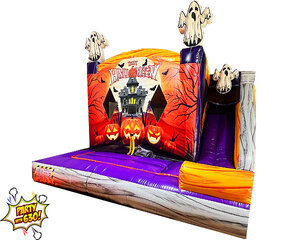 Party With 630 Has The Best Jumpers with Slide Rentals In Palo Alto
If you want to give your party guests an extra bit of fun at your next party, our jumper with slide rentals are the perfect option. Kids love to bounce and everyone loves a slide. Our jumper with slide rentals combine the two into one item giving your guests the option to experience the thrill of both. And kids of all ages can use them.
All of these items have a large bouncing area, but these come with a few more features to keep the kids entertained even longer. Inside the children will find a basketball goal to shoot some hoops with friends while bouncing around, and many contain interior obstacles like pop-ups to raise the challenge and create obstacles as participants race through the jumper to the stairs to the slide. Once there, your guests with have to climb to get to the top of the slide where even more excitement is waiting.... the slide!
Are you ready to jump and slide while creating smiles and laughter all day? We thought so! Party with 630 rentals are a guaranteed hit with our selection of some of the most popular bounce house with slide rentals in
Palo Alto
and the surrounding communities. Our jumper with slide rentals have become a favorite attraction at parties, corporate events, school functions and religious festivals. The combination of a bounce house and a slide together has made those events even more fun. As it is one inflatable instead of two separate pieces, they take up less space at your event but are also safer too. Instead of having to watch children on two different items, your party guests will be on the same piece which gives parents a better piece of mind.
Kids ages 4 and up love our bounce houses with slides because of the added versatility and bonus features and many of these units can handle adults as well. Some children get tired of just bouncing around for hours but when you throw in some balls for the goals and also have a slide, it just adds to the entertainment. They are great for backyard birthday parties, school functions, church gatherings, family reunions, and much more. Your guests will enjoy hours of excitement and joy on our quality combo bouncer. Browse our awesome selection of combos today and
book online now!
Party with 630 has the newest inventory of jumper with slide rentals in the area.
As parents ourselves, we also know how difficult it can be to plan a party. We strive to take the stress out of the process with our online ordering. Simply select your items from our website by either clicking on the image or the Info and Pricing link. You can also add these items straight to your cart by clicking the Add To Cart button to get started. After that, give us your party details and pay a small deposit and you're all set. It's super easy to do and once you're done we will send you a confirmation email! We can't wait to be a part of your party when we deliver one of our bounce house with slides to your party!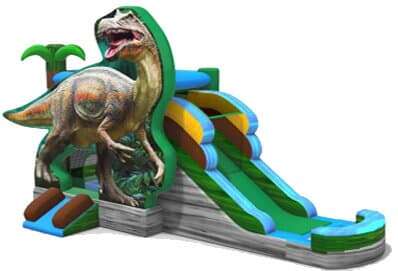 Featured Jumper with Slide Rental
Dinosaur Jump and Slide
This amazing 6-in-1 Jump and Slide definitely will create a roar at your party. It features a 22 foot tall Dinosaur straight from the Jurassic age! It also has a basketball hoop, inflatable pop ups creating an obstacle course inside the bouncer before participants can climb up the stairs to the huge slide. Kids from 2-60 years old will enjoy the thrill of this jumper with slide.
Book Now!
Party With 630 Has the Largest Inventory in Palo Alto!

Party With 630 has the greatest selection of jumper with slide rentals in Palo Alto and we can bring the fun to your party or event. We make the process easy and safe.

Our online ordering of our jumpers and other rental items makes party planning easy and we have the items you'd normally have to reserve from multiple companies. Palo Alto residents used to have to search for a vendor for a jumper with slide, another for tables and chairs and another for concession machines like popcorn, cotton candy and snow cone machines. At Party With 630, many of us are parents as well and have had to go through that stress. That's why our inventory has it all. You can now make reservations with one company and we will take care of the delivery and you don't need to coordinate with multiple vendors.

Worried about safety? Again, many of us are parents as well. We get it. If we wouldn't let our own children use a jumper with slide, we will not let your children. That goes for any of our other rental items too. We inspect, clean and sanitize all of our rental items after each rental to ensure you have safe items for your party and you can focus on having fun and not getting kids sick.

Browse our selection of jumper with slides above, and be sure to check out some of our other rental items for all our tables, chairs, tents, concession machines, water slides and more.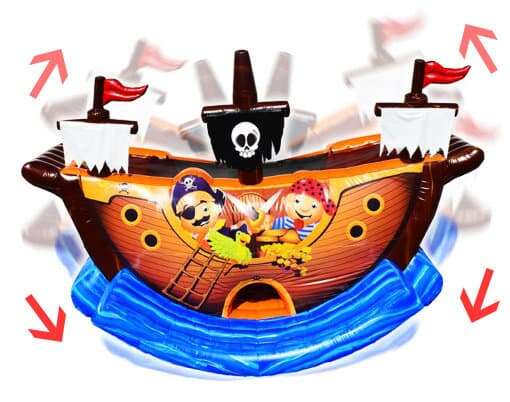 13x30 Rockin' Pirate Ship
The Rockin' Pirate Ship jumper with slide combination is sure to get everyone moving. It actually rocks back and forth! Your kids are going to love it. In addition to the unique rocking motion, they will love the two slides it has. Anyone age 4 and up can experience the on the high seas with this jumper with slide.
For children under 4, we recommend the Pirate Ship Jump and Slide
Book Now!
Jumper with Slide Rental Near Me?
Party With 630 loves to work with our Schools, Churches and local businesses. We are proud to say we provide the largest selection of rental items in Palo Alto has to offer! Bounce, hop and play safely with our inflatable jumpers! Our huge selection of bounce houses with slide guarantees that we have something just for you. Trained staff is available to guide you through the ordering process if you need help. Click on the chat button on the bottom right hand corner or call us at
(650) 630-5867
Mon-Fri 9am-7pm.
In addition to our Jumper with Slide Rentals, we also have a variety of
Jumper
, Water Slides, Interactive Inflatables, Sports Inflatables, Giant Games, and Concessions Machines to make party snacks like popcorn, cotton candy and snow cone machines. We also have tents, tables and chairs to give your guests a place to sit, relax and socialize out of the weather. If you are looking for a bit of relaxation at the end of the day, check out our Movie Night Parties with inflatable outdoor movie screens you can use to create your own private viewing parties with a few people or invite the neighborhood over for a block party.
People Who Rented a Jumper With Slide in Palo Alto Also Rented: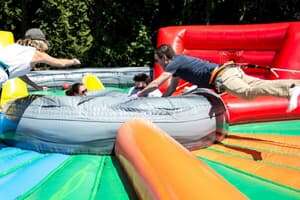 Interactive Inflatables
Interactive Inflatables offer a fun way have a unique party or event. We offer items like a giant hungry hippo game and a human whack-a-mole game. We also offer a number of sports related challenges to let your guests show off their skills.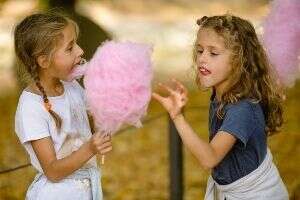 Party Snacks
Our Concession Machine rentals are the perfect way to add a fun snack to your party and save time on trying to figure out how to feed your guests. Choose from popcorn, cotton candy or snow cones (or all of them) for your party.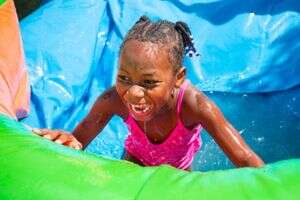 Water Slides
Is there a better way to spend a summer day than by getting the thrill of going down a water slide and splashing down in a pool of water? We don't think so and our customers love our selection. Our slides are a great way to create a fun day in the sun.
Frequently Asked Questions About Jumper with Slide Rentals