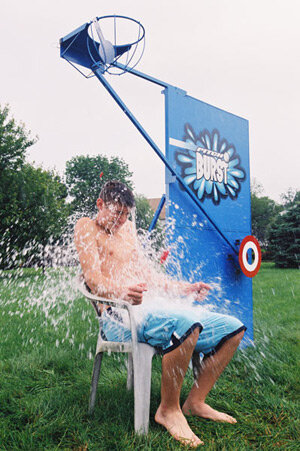 Pitch Burst - Dunk Tank Alternative
Setup Area: 12 W x 10 D x 8 H
Number of Kids At A Time: 1
Recommended Age: 6+





235.00

for 6 Hours
or $425 for an extended rental.



People worldwide love to play Pitchburst® (Our Original Dunk Tank Alternative); at parties, fund raisers, carnivals, fairs, festivals, corporate events and more. It's safe and simple to play - pitch a ball, hit the target and - splursh! - a water balloon bursts overhead. (Comes with 45 Balloons).
Dunk tank alternative pitch burst balloon drop from Party With 630 on Vimeo.
Customers who viewed this also viewed