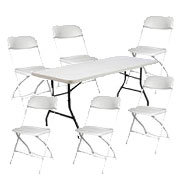 420 - 1 6 Ft. Adult Table & 6 Adult Chairs
This set is 1 6 Ft. table is your standard size table used for food, drinks, seating, concession machines or pretty much anything else you need. This table set has 6 Chairs and can sit 6-8 adults per package.
Fun Fact: You can have the time of your life after lunch because you can play Giant Dominoes!