296 - Bungee Run Toxic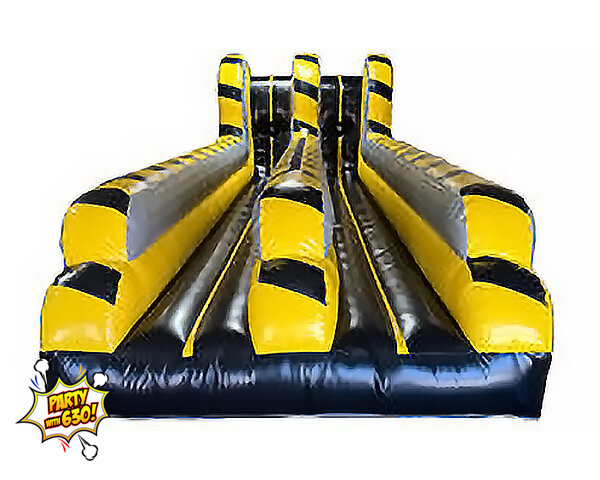 Weekend Rental
Fri 3pm to Sun 3pm

$712.50

Sunday Funday Special
COUPON CODE: FUNDAY

Save $15.00

Setup Area: 40 L X 15 W X 15 H
How Many Can Play?: 2
Dedicated Circuit(s): 1
Best For Ages: 6+
Why A Bungee Run?
Attention all school and church event organizers, it's time to take your upcoming festivities to the next level with our thrilling lineup of interactive inflatables! Here's why you need a bungee run, obstacle course, velcro wall, wrecking ball, or hungry hippo inflatable for your next school field day or church event:
Unbeatable Fun and Excitement: These interactive inflatables offer non-stop fun and excitement for participants of all ages. Whether it's the exhilarating bungee run, challenging obstacle course, sticky and hilarious velcro wall, the swinging wrecking ball, or the competitive hungry hippo game, these attractions guarantee to keep everyone entertained throughout the entire event.
Foster Teamwork and Camaraderie: The inflatables are not just about individual play; they encourage teamwork and camaraderie among participants. From cheering on teammates to strategizing together, these interactive activities promote positive interactions and build strong bonds among friends, classmates, or church members.
Physical Activity and Healthy Competition: In an age where screen time dominates, our inflatables offer a refreshing opportunity for physical activity and outdoor play. They get kids and adults moving, laughing, and engaging in friendly competition, promoting a healthy and active lifestyle in a fun and engaging manner.
Memorable and Instagram-Worthy Moments: The interactive inflatables create picture-perfect moments that will be cherished by both participants and event-goers. From mid-air leaps on the bungee run to hilarious velcro wall poses, these attractions provide endless photo opportunities, guaranteeing your event will be the talk of the town.
Stress-Free Planning: Organizing an event can be overwhelming, but with our interactive inflatables, you can easily create an exciting and engaging experience for your guests without the hassle. Our professional setup and safety measures ensure a seamless event, leaving you to enjoy the day alongside your attendees.
So, don't miss the chance to elevate your school field day or church event to new heights of fun and enjoyment! Book a bungee run, obstacle course, velcro wall, wrecking ball, or hungry hippo interactive inflatable today and get ready to create lasting memories that will make your event truly unforgettable!