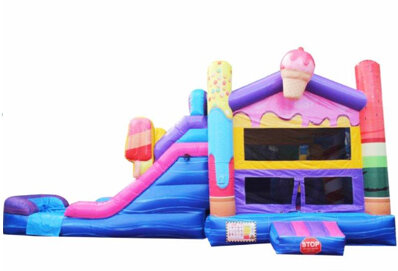 190 - 13x31 Ice Cream Jump and Big Slide
Setup Area: 33 Ft Left to Right x 17 Ft Front to Back x 16 Ft High
Dedicated Circuits: 1
How Many Kids: Up to 8.
Best Age Group: All ages.




---
They say "You can't buy happiness, but you can buy ice cream, and that is pretty much the same thing" but they have never seen this sweet treat! A little sugar and spice and everything nice is exactly what is jumper is made of. Packed six exciting (this is what makes it a 6 in 1) features to keep them coming back for more.

The large bouncing area (1) has plenty of room for everyone but that's not all. There are pop-ups (2), an inflatable doughnut (3), basketball hoop (4), climbing wall (5) and a extra large sundae with hip cream and a cherry size slide (6) that will ensure your day ends with sweet sweet dreams.