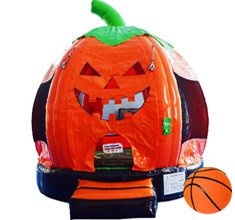 16 Ft Round Pumpkin Jumper
Halloween
This Round Pumpkin Jump house will be the best center piece to have at your Halloween night event. The very own look of the outside jumper, it's colors and complete distraction for the kids on a Halloween evening can be just the talk and remembrance of that specific night. It comes with a basketball hoop inside and has very nice similarity to our Disco Dome style jumper.
Also be sure to check out our other Halloween Jumpers for the season.