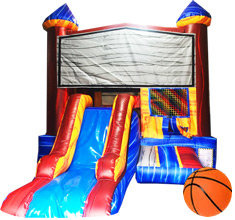 13x24 4 in 1 Marble Jumper
with Slide in the Front
Blower(s): 1
Number of Kids At A Time: 8





255.00

for 6 Hours
 or $325 for an extended rental.



Another Marble Theme-able Jumper has arrived to Party With 630. This front slide is sure to excite all of the kids with it's marble, yellow, blue and red colors and pleases the parents because of it's narrow clearance ( 13x24 ) needed it can practically go anywhere! Of course it has a basketball hoop. Every new inflatable with a slide has a basketball hoop with Party With 630.