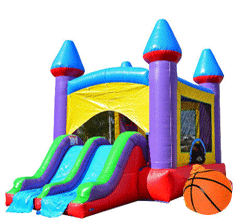 13x24 4 in 1 Lil' Kid Colorful Jumper
with Dual Lane Slide on the Side. 6 and Under
Blower(s): 1
Setup Area: 15 W x 23 D x 17 H
Number of Kids At A Time: 8
Recommended Age: 7 and Under





200.00

for 6 Hours
 or $325 for an extended rental.



The Lil' Kid Colorful Jumper has Dual Lane and climbing with a basketball hoop which makes 4 in 1, you can fit in a driveway since is 13 Ft wide (15 needed). If this one might not work with your space you can also consider the Blue and Red Version for Toddlers. Is more for Toddler audience so only kids 7 and under.