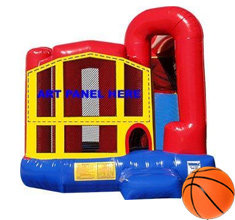 16x16 4 in 1 Theme-able Jumper
with Slide on the Inside
15 Amp Outlet: 1
Setup Area: 17 W x 18 D x 16 H
Players: 8
Age Group: 2+
Play Time in Minutes: 5/Unlimited




New and fresh is what Party with 630 brings to the Los Alto's , Menlo Park , and Palo Alto plus surrounding areas. This Bounce house rentals is called Backyard Theme Jumper . Backyard jumper and slide once it is professionally setup makes any party or an event a home-run. This jumper rental has a large slide and enormous jumping are plus a basketball hoop. Make this a memorable event by adding Giant soccer darts.
16x16 4 in 1 Theme-able Jumper with slide on the inside

Slide, Jump and climb, enjoy a basketball hoop with this add-a-theme jumper. This Theme-able unit can be customize with Spider-man, Dora, Disney Princess, Tinkerbell and more.
Customers who viewed this also viewed