Aim for fun and hit your party target when you schedule one of our dunk tanks at your school or community event! We have a number of tanks in different styles and sizes to ensure we can provide exactly what suits your party.

Kids lose their minds at the chance to dunk their principal - or parent! Adults have fun, too. These units generate a ton of group excitement and interaction, and there's a good reason that they're so popular. Water-related fun is always a hit when the temperatures are high, reserving today is a slam dunk!

Dunk tanks for rent couldn't be any easier today. Just select the one you want below and start your reservation.
Click Here To See Water Slides
Slide into fun with our huge selection of water slides and slip ad slides for rent, available in a wide array of vibrant colors and exciting design.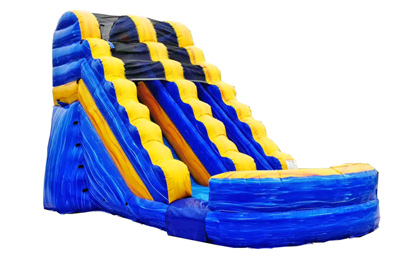 Click Here To See Slip & Slides
There is nothing quite like a water slide when it comes to summer fun in the sun. These inflatable units are cushioned and safe by nature, manufactured with quality and professionally installed at your party or event site by our fully trained and helpful staff. Turn on the water and get ready for fun!